Top 10 Trending Summer Activities to Enjoy in Ireland
Summer is a season of endless possibilities and thrilling adventures. It's time to enjoy the warmth and sunshine by participating in seasonal activities. You've come to the perfect place if you're looking for the trendiest trends in summer activities to make the most of the season! This blog will look at the top ten summer activities. There is something for everyone, whether you are looking for thrilling experiences or relaxing pastimes. Eticks, the digital ticketing platform, can also assist you in organizing and securing tickets for these activities, ensuring a smooth and pleasurable experience for everyone.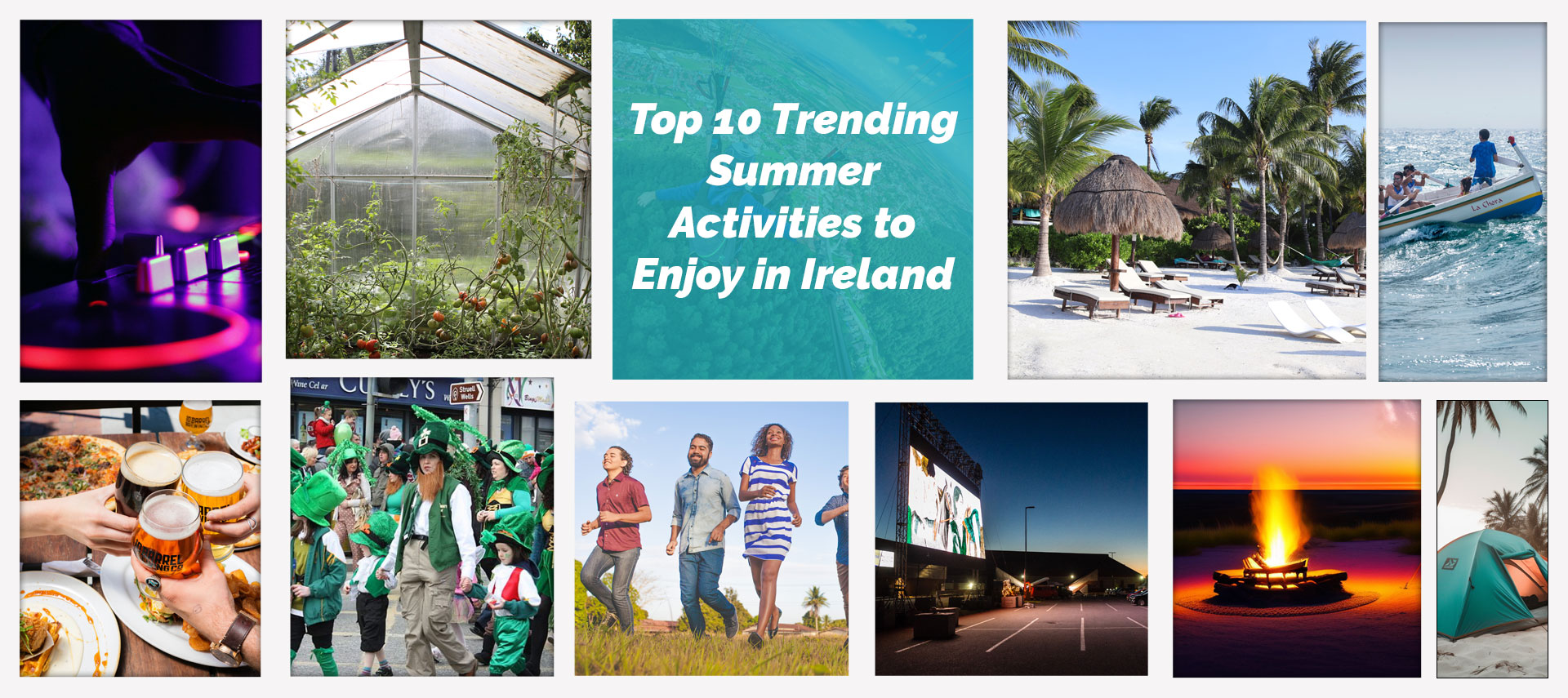 01) Music Festivals
Ireland is well-known for its thriving music scene, and summer is the ideal season to immerse yourself in the rhythms and melodies of live performances. There is a festival for everyone, from traditional Irish music festivals to current genres. From traditional Irish music festivals to contemporary genres, there's a festival catering to every taste. Get your tickets from Eticks, the digital ticketing platform, and get ready to sing and dance along with your favorite performers.
02) Outdoor Concerts
Enjoy the wonder of music in the great outdoors during the summer months with open-air concerts held throughout Ireland. Attending an outdoor concert is a lovely way to enjoy live music while enjoying in the summer environment, whether it's a local band performing in a park or a known musician mesmerizing a large audience.
03) Food and Drink Festivals
Celebrate Ireland's gastronomic gems by attending food and drink festivals. Discover the diverse flavours that define Irish food. From seafood feasts to beer and cider celebrations, these events highlight the country's unique cuisine options. These events frequently include cooking demos, food stalls, and family-friendly entertainment.
04) Beach Activities
Ireland has a gorgeous coastline, and its beaches come alive throughout the summer. Spend a day at the beach making sandcastles, swimming in the sea, playing beach volleyball or simply relaxing in the sun. This summer, make a splash with superb water sports adventures. Whether you enjoy surfing, paddleboarding, kayaking, or sailing, Ireland's coastline and inland waterways have plenty of options.
05) Adventure Sports
Summer is the ideal time for adrenaline enthusiasts to participate in daring adventure sports. Try your hand at zip-lining, rock climbing, abseiling, or even skydiving. These thrilling adventures will send your heart racing and leave you with unforgettable memories.
06) Outdoor Cinema
Attending outdoor cinema screenings provides a one-of-a-kind movie-watching experience. These events, set against gorgeous landscapes, provide the opportunity to view classic films or recent blockbusters under the starry night sky. Grab a picnic blanket and some popcorn for a cinematic adventure in the great outdoors.
07) Garden Tours & Botanical Gardens
During the summer months, take a leisurely stroll around gorgeous gardens and appreciate the beauty of nature. Ireland has several beautiful gardens and botanical parks that highlight a diverse range of plants, flowers, and landscapes. Join guided excursions or simply stroll around these wonderful green places.
08) Heritage & Cultural Events
Summer is a season in Ireland when the country celebrates its rich heritage and culture. Historical reenactments, storytelling sessions, traditional music and dance performances, and cultural festivals are examples of events that provide a glimpse into the country's vibrant traditions. Eticks can assist you in obtaining tickets to these events, guaranteeing that you do not miss out on the cultural spectacle.
09) Water sports and Sailing
Ireland has a plethora of lakes, rivers, and beaches, making it ideal for water-based activities. There are numerous opportunities to make a splash and enjoy the refreshing seas, whether you prefer sailing, windsurfing, fishing, or simply having a leisurely boat excursion.
10) Family-Friendly Outdoor Adventures
Summer is a great time for families to bond and make memories. Participate in family-friendly outdoor activities such as nature walks, treasure hunts, park picnics, or bike excursions. These activities encourage spending quality time together and allow everyone to enjoy the natural beauty of Ireland.
Conclusion
As summer approaches, Ireland transforms into a playground for interesting activities and unique experiences. There is an activity to suit your interests, whether you enjoy music, food, adventure, or simply spending quality time with your family. Eticks, the digital ticketing platform, can help you organize and secure tickets for a variety of summer events, assuring a smooth and delightful experience. So, make the most of the season by participating in the top ten trendy summer activities and creating wonderful experiences in Ireland's stunning landscapes.