Make Your Christmas Special With One Of These Part Themes
Get ready to celebrate the holidays in style! This year, take your Christmas party to a whole new level with our innovative ideas for a festive and unforgettable celebration. Get your family and friends in the holiday spirit with our unique and creative ideas for your Christmas party. From decorations to activities, we have the perfect ideas to make your Christmas party an event to remember.
This year, don't settle for the same boring Christmas party. Get creative and surprise your guests.
If you want all the elements of your Christmas party to match, picking a theme is crucial. By sticking with one party theme, you can cut down on the amount of work required to host a Christmas party. The theme you choose will assist coordinate your menu, decorations, and Christmas party invitations, whether you want to hold a traditional Christmas party or a Winter Wonderland extravaganza.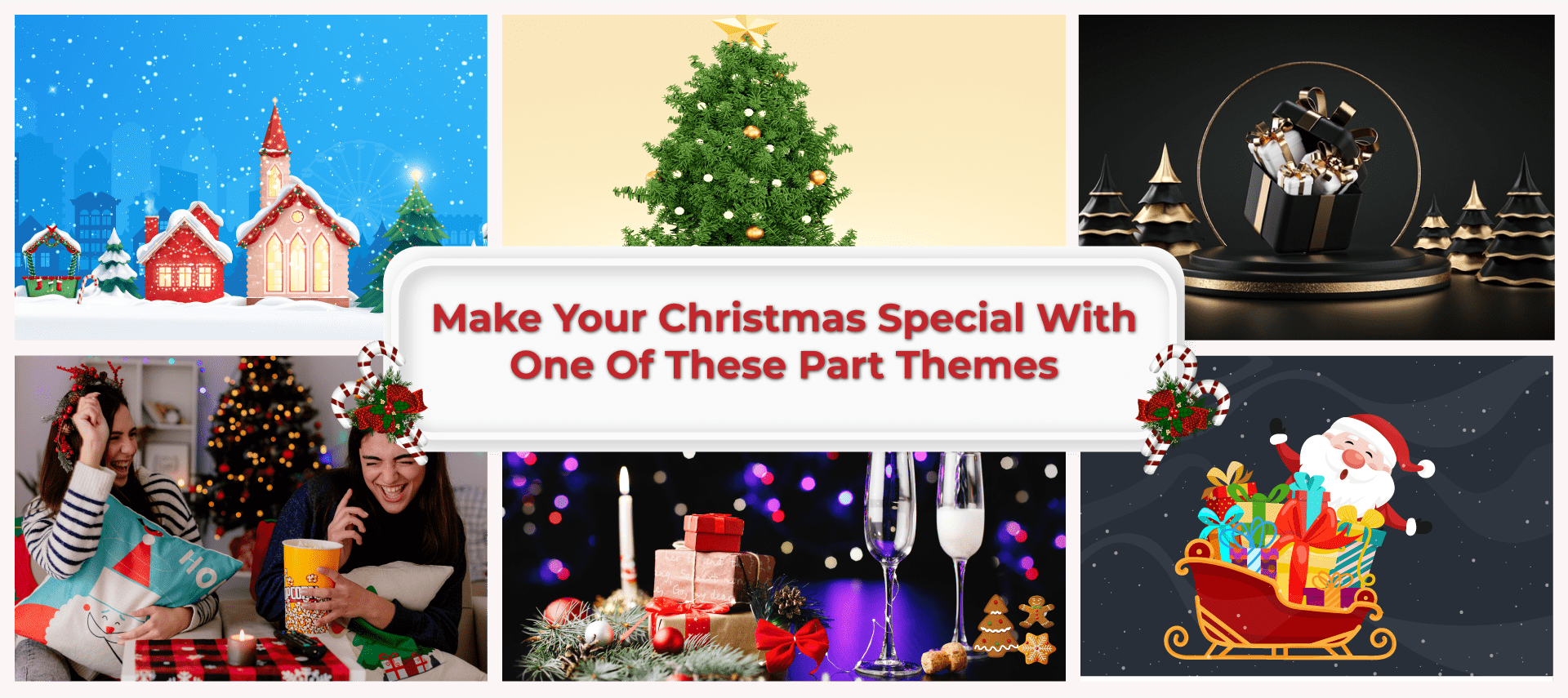 Below are few themes to celebrate Christmas to make it extra special:-
1) Traditional Christmas
Throw a traditional Christmas party to get your loved ones in the festive mood! Find festive and merry designs for your party that feature red, green, and other holiday colours. To create a cozy and traditional atmosphere for your celebration, gather stockings, miniature Christmas trees, wreaths, large ornaments, and Christmas lights. Don't forget to finish the theme by sending out your complimentary elegant Christmas cards.
2) We Three Kings
A "We Three Kings" party has a sophisticated and pious theme and uses the colours white, black, and gold. To keep your party authentic to the three Wise Men's journey to Bethlehem for the birth of baby Jesus, you can adorn it with trinkets, regal patterns, and diamonds.
3) Santa Claus Soiree
For this theme, decorate your party with anything and everything Santa-inspired. Santa can be included in your decor, desserts, and table settings if you want to get creative with your Saint Nicholas theme. To make your Santa Claus party special, don't forget to ask a friend or member of your family to dress up as Santa and surprise your guests.
4) Peppermint Party
The food and treats at a peppermint or candy cane party are everything! You can offer everything from homemade peppermint bark and peppermint fudge to peppermint hot cocoa and peppermint drinks (or mocktails). When it comes to party décor, you can choose between a traditional red and white striped motif or candy canes in a variety of colours.
5) Winter Wonderland
Transform your house or area into a lovely Winter Wonderland celebration with snowflakes, white furnishings, and snowmen. A dessert bar made entirely of white items and a lot of white and silver decorations throughout your complete party setup describe this exquisite and opulent theme.
6) Reindeer Party
This year, consider hosting a charming reindeer-themed Christmas party. Despite the red and green colour scheme of this theme, you can use imaginative touches like log centrepieces, reindeer goodies, and sleigh bells. As your visitors enter, don't forget to give them all antlers and red noses.
7) Elf Party
Who said that Santa Claus had to be the main attraction? Change the subject and host a celebration for Santa's tiny helpers. An elf party is thrilling and enjoyable with lots of room for props and decorations with an elf theme.
8) Nutcracker Ballet Party
If you like the Nutcracker ballet, consider turning this well-known play into a formal holiday gathering. Decor inspired by angels, ballet dancers, toy soldiers, and the winter season defines this wonderful party. A Nutcracker ballet party is ideal if you want to stay away from red and green this holiday season.
9) Cookie Exchange
For a lovely Christmas celebration, host a kid-friendly cookie swap party. To ensure the success of the cookie exchange, ask each participant to bake and bring one variety of cookies along with the recipe. Before choosing their cookies, guests can customize their boxes at a packaging station that you can set up.
10) Christmas Costume Party
Invite visitors to a costume party this year and urge them to wear costumes. You can ask people to dress in holiday attire or in their favourite holiday movie character. In either case, costume parties are always imaginative and let people contribute more to the success of your event. Additionally, you can use traditional Christmas decorations with this theme.
11) Christmas Movie Night
Gather your loved ones for a festive movie night, complete with snacks. This is a simple theme that doesn't call for many decorations. Spend your time organizing quick-to-grab snacks and meals that are geared toward watching movies. To create anticipation, you can also include the Christmas movies you'll be showing on your invitation.
Conclusion
You're guaranteed to have the best fun this year with these Christmas theme suggestions. There is a Christmas event for everyone, from reindeer races and galas to cookie-baking competitions. This list of Christmas theme ideas has everything you need, whether you want to hold a single event or celebrate Christmas every day in December. These themes are just the beginning when it comes to celebrating Christmas. With a little bit of imagination and a lot of holiday spirit, you can create a memorable experience and bring extra fun to the season.